If you have multiple decayed teeth or teeth missing, you can still achieve your dream smile with a full mouth reconstruction from our experienced dental team at our Sacramento office.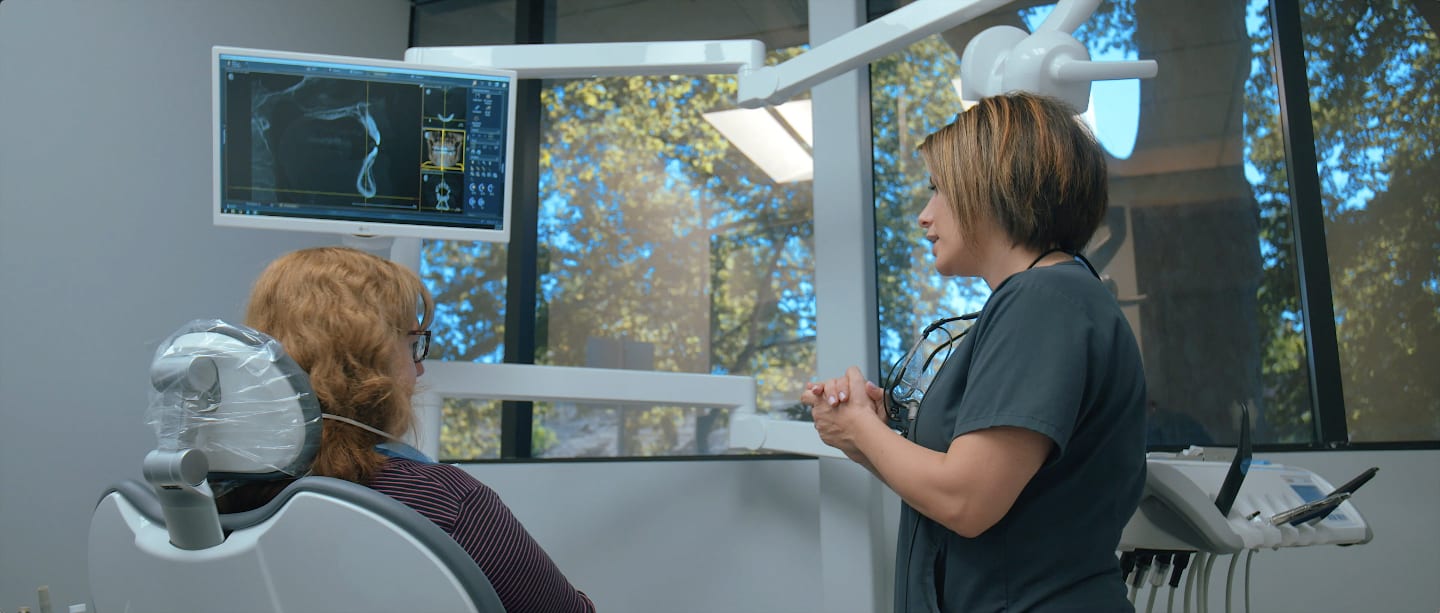 What is a Full Mouth Reconstruction Procedure?
A full-mouth reconstruction is a multistep mouth restoration process that involves multiple dental procedures to drastically improve the look and function of the patient's jaw and teeth. The overall procedure can include dental crowns, dental bridges, veneers, and more. A full mouth reconstruction not only improves the look and function of your teeth but also helps repair and maintain your gums.
Full Mouth Reconstruction Steps
The first step in restoring your smile is a consultation with our experienced dental team to assess your oral health, including photos, X-rays, impressions, or digital scans as part of the consultation.
After the consultation, we discuss your treatment options with you, including a mock-up or digital rendering of your smile after treatment.
Our dental team will address any decay that hasn't been treated. If left untreated, existing decay in natural teeth can threaten the stability and longevity of your reconstruction.
Treatments for tooth decay include:
Fillings to repair cavities
Root canal therapy for teeth with infected soft tissue
Tooth extractions
Oral surgery, if necessary
➃ Periodontal Disease Treatment
Scaling, and treating periodontal pockets is an essential step in full mouth reconstruction. Unhealthy gums can pull away from natural teeth and dental implants, causing loose teeth. And ultimately. tooth loss.
➄ Digital CAD/CAM Imaging
Our team will take digital scans of your teeth so that crowns, implants, inlays, and onlays can be designed with your healthier mouth as the basis for the design.
➅ Custom Restorations Created & Placed
Custom restorations created in-house with our cutting-edge dental equipment are the final step in full mouth reconstruction. Midtown Dental is one of few offices around the country where the dentist designs your cases from start to finish to deliver your beautiful smile. What that means for you as a patient, is that your particular preferences can be taken into account to get you your desired result. You'll be able to share your preferences for the shape and shade of your new smile.
Ready to perfect your smile?
Benefits Of A Full Mouth Reconstruction
The benefits of a full-mouth reconstruction are numerous since the procedure can resolve a variety of dental issues. Some positive benefits include:
Better chewing function
Improvement in jaw discomfort
Improved esthetics.
In many cases, a full mouth reconstruction provides both functional and cosmetics improvements, leading to higher self-esteem and marked changes in a patient's life.
Determine if a full mouth reconstruction is right for you with the help of our friendly dental staff.
How Much Does a Full Mouth Reconstruction Cost?
The cost of a full mouth dental reconstruction depends on your specific case. The base way to determine your cost is to come in for a consultation so we can evaluate your specific case.
Depending on your dental insurance plan, your provider may cover the cost of some full-mouth reconstruction treatment plan procedures. The team at Midtown Dental will be able to provide an accurate estimate as well as discuss financing options.
Full Mouth Reconstruction Q&A
How long does a full mouth reconstruction take?
The length of the procedure ranges anywhere from three weeks to a few months if extensive work is required. A full mouth reconstruction can involve a combination of dental procedures, including crowns and bridges, making it a multistep journey that requires multiple visits. Because Midtown Dental is able to complete most if not all of your dental work under one roof, as well as provide efficiency through digital workflows, visits are far fewer than most other dental offices.
What's the difference between a full mouth reconstruction and a smile makeover?
A smile makeover is a dental treatment plan designed for patients who want to enhance their smile and entails removing flaws and improving the overall look through teeth whitening and taking care of chips, stains, and cracks.
Full mouth reconstruction is a treatment plan to address multiple oral health issues. The focus of the treatment process is to fix functional or health problems associated with your teeth or bite.
Does full mouth reconstruction hurt?
No, you will not be in pain at any point during treatment. Dr. Jenny Apekian is certified and licensed to administer IV sedation, which can make your appointments more comfortable and allow our team of dental specialists to complete more reconstructive work during your visits. It is always our goal at Midtown Dental to minimize pain and make this as comfortable experience as possible.
What procedures are included in my full mouth reconstruction treatment plan?
No two full mouth dental reconstruction treatment plans are alike, but standard procedures include:
Orthodontic treatment
Removal of damaged or infected teeth
Root canal therapy
Periodontal treatment
Placement of dental crowns, porcelain veneers or composite veneers
Temporomandibular Joint (TMJ) treatment
Dental Implants and/or bridges
I am so happy I switched Dentist Offices. The high tech and thorough care at Midtown Dentists is exemplary! The staff were very pleasant and they had all the safety guards in place for Covid. Dr. Crippen was fantastic in explaining the 3D visual on the screen of my teeth, sinuses, bones and dental needs. Denise was a fantastic hygienist and was careful around any sensitive areas too! I highly recommend this office for all your dental needs! Thank you!