Most PPO Dental Insurance Plans Accepted
Dental insurance is an important part of dentistry today. At Midtown Dental, we are only in-network for Delta Dental Premier dental insurance plan. Delta Dental Premier is the country's largest dentist network, with more than four out of five of the nation's dentists participating.
Aside from Delta Dental Premier dental insurance, Midtown Dental generally can bill all other PPO insurance plans on an out-of-network basis. Most PPO plans will still cover 100% of preventive care for out-of-network patients and most other services are covered at similar rates.
We Accept Most PPO Dental Insurance Plans,
Call to See if Yours Qualifies!
Please do not hesitate to Contact Our Dental Office for any dental insurance related questions. Our team members will be happy to look into your insurance and provide you with a detailed breakdown of costs and benefits.
Midtown Dental does not accept HMO insurance plans, Medi-Cal or Denti-Cal.
Midtown Dental Savings Plan
A comprehensive and affordable dental savings plan focusing on your overall dental health, including preventative, cosmetic, implant and orthodontic care.
Traditional dental insurance premiums are expensive and continue to go up, while at the same time, benefits are extremely limited. That's why we created Midtown Dental Savings Plan, which covers all your oral health needs, at an affordable price!
Ready to Start Your Dental Savings Plan?
Plan Benefits
2 Annual Regular Cleanings
2 Fluoride Treatment with Cleanings
2 Annual Exams
Annual Exam X-Rays
15% Savings on all Additional Dental Treatments
$500 Savings on a Full Case of Invisalign Orthodontic Treatment
Plan Advantages
No Deductibles – Most traditional dental plans have $50-$150 in annual deductibles.
No Annual Maximums – Most dental plans have yearly maximums of $500-$1,500.
No Waiting Periods – No authorizations needed or waiting for treatment.
No Claim Forms – No need to fill out long and complicated forms.
Comprehensive Benefits – All dental treatment discounted, including cosmetics and orthodontics.
For more details or to enroll, please call our office at (916) 441-5800.
*The Midtown Dental Savings Plan is not dental insurance. It cannot be combined with any other dental insurance or other discount offers. Please contact our office for all terms and conditions.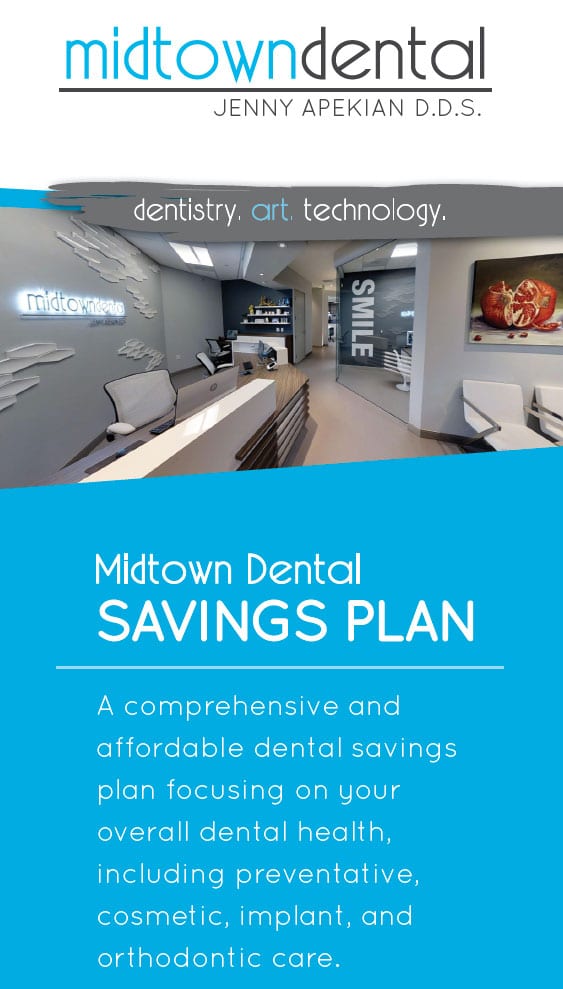 After being to many dentists over the years, I can honestly say that Midtown Dental is very likely one of the top dentistry practices in the country. The entire staff is extremely professional with impeccable manners and attention to detail. The office is beautifully decorated and all the equipment and medical devices used are advanced, state of the art in every way.