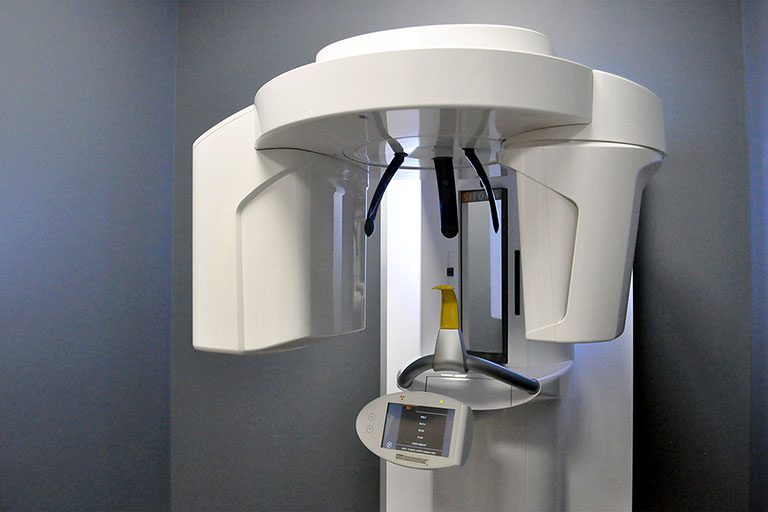 Dental Cone Beam Computed Tomography (CBCT) is a particular type of X-ray machine used in situations where a traditional dental X-ray is not sufficient. It is also used as diagnostic imaging to find the pathology of oral and maxillofacial (jaw and face) structures.
This type of CT scanner uses a special kind of technology to generate three-dimensional (3-D) images of dental structures, soft tissues, nerve paths, and bone in the craniofacial region in a single scan. Images obtained with Cone Beam CT allow for more precise treatment planning.
Cone Beam CT vs. Traditional Dental CT
A Cone Beam CT is not the same as a dental CT. While both CT scanners create three-dimensional images of the jaw, the older dental CT uses a fan beam to transmit radiation in the form of a helix/spiral.
With a Cone Beam CT, a cone-shaped X-ray beam rotates around the patient's head to produce between 150 to 200 high-resolution two-dimensional images, which are then digitally combined to form a 3-D image. With a Cone Beam CT, your dentist to review three-dimensional cross-sections of your head and neck.
A Cone Beam Computed Tomography can identify diseases of the jaw, dentition, bony structures of the face, nasal cavity, and sinuses much more efficiently.
What's the difference in X-ray beam radiation exposure?
A dental CT scan is an older technology developed in the 1970s and uses a high-output anode X-ray tube that rotates. A Cone Beam CT scanner uses a medical fluoroscopy tube that is low power.
A lower power level means lower radiation around the patient. A Cone Beam CT has a quicker motion than a dental CT scanner, giving you a radiation dose that is 200-300 times less radiation during panoramic radiography.
I just switched over to Midtown Dental, and their service was excellent! Today was my first appointment, and everyone was so helpful and kind. Donna, the receptionist was extremely pleasant then I had a consultation with Dr. Apekian, and she was very thorough with my concerns and helpful with answers and alternative answers to my questions, the X-ray tech was gentle and pleasant as well as the dental hygienist who also was gentle with my cleaning and gave me helpful tips. The office is up to date and well cared for and just an overall pleasant staff. I referred my family members to them, and they will be setting appointments up also! Thanks, staff at Midtown Dental, for making my visit enjoyable!
What are some common uses of the procedure?
Dentists commonly use a Dental Cone Beam CT for treatment planning of orthodontics and dental implants. The advancement of dental medicine has brought about some of the most incredible methods for medical imaging. Cone Beam CT imaging is also helpful for more complex cases that involve:
Surgical planning for impacted teeth.
Diagnosing temporomandibular joint disorder (TMJ).
Evaluation of the jaw, sinuses, nerve canals, and nasal cavity.
Detecting, measuring, and treating jaw tumors.
Determining bone structure and tooth orientation.
Locating the origin of pain or pathology.
Cephalometric analysis.
Reconstructive surgery.
Accurate and safe placement of dental implants.
A Cone Beam CT exam requires no special preparation.
You should wear comfortable, loose-fitting clothing for your exam.
Before the examination, Midtown Dental staff may ask you to remove anything that may interfere with the imaging, including metal objects, such as jewelry, eyeglasses, hairpins, and hearing aids.
Although you may need to take out removable dental work, it is advisable to bring these to your examination, as your dentist may need to examine these as well.
Women should always let their dentist or oral surgeon know if they are or may be pregnant. Whenever there's an effective dose of radiation used during an exam, it's best to take the proper precaution.
How is the procedure performed?
You will be asked to stand or sit in the Radiology room. The dental assistant will position you so that the area of interest is centered in the beam. You will be asked to remain very still while the X-ray source and detector revolve around you for a 360-degree rotation or less.
The X-ray source and detector are mounted on opposite sides of the revolving C-arm or gantry and rotate together for a more dynamic range. In a single rotation, the detector can generate anywhere between 150 to 200 high resolution two-dimensional (2-D) images, which are then digitally combined to form a 3-D image that can provide your dentist or oral surgeon with valuable information about your oral and craniofacial health.
The procedure typically takes about 15-20 seconds for a complete volume, also called a full mouth X-ray, where the entire mouth and dental structures are imaged, and less than 10 seconds for a regional scan that focuses on a specific area of the maxilla or mandible.
What will I experience during and after the procedure?
You will not experience any pain during a Cone Beam CT exam, and you'll be able to return to your normal activities once the exam is complete. All imaging systems at Midtown Dental are safe and approved by the American Dental Association (ADA) and Food & Drug Administration (FDA).
Who interprets the results, and how do I get them?
Your dentist will analyze the images. If necessary, your dentist may also work with a dental radiologist who can interpret results that are of any significance. It's essential to bring in the expertise and knowledge of a dental radiologist when observing the soft tissues, bone density, and any other part of your head and neck to ensure a proper diagnosis is conducted.
Implant planning with CBCT and CAD/CAM
Midtown Dental uses the same CEREC CAD/CAM technology, which allows for same-day crowns, with 3-D imaging to help plan implant placement precisely and safely. This unique technological integration allows us to place implants with total confidence based on both the surgical site and final restoration.
Surgical guides to position the implant without risk to adjacent structures like nerves and sinuses, among others, can be made entirely digitally without impressions. This saves time, reduces the number of appointments, and makes the entire process much more comfortable without messy impressions. Overall, it achieves the goal of improving the quality and fit of the final CEREC Crown. Dr. Apekian, herself, utilizes her art background to design and characterize each and every implant crown.